▼Business Development
We have also been accumulating a number of intellectual properties and much know-how through our research activities. One of our major missions is to offer this wealth of "soft assets" for society's use in a broad range of applications, thus making a significant contribution to society.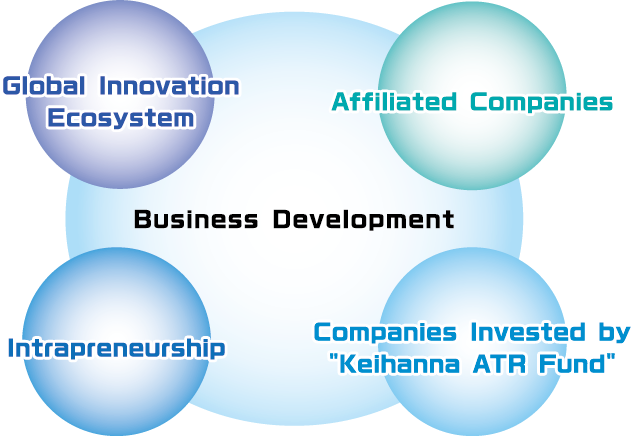 Please click each title. You can confirm the details of each company.
---
▼Affiliate Companies
Business affiliates were established to commercialize products and services based on ATR's research outcomes.They have served as the core agents of commercialization in the ATR Group and have achieved successful results since 2004.
ATR-Promotions Inc. 
Our missions are to develop and to market products relating to speech and sensor technologies developed by ATR. We also provides services to support advanced neuroimaging research.


https://www.atr-p.com
ATR Learning Technology Corp 
We develop "ATR CALL", which is the e-learning system for foreign language learning. We also develop the accented speech evaluation technique embedded in it. Products are introduced to schools through Uchida Yoko Co., Ltd.


https://www.atr-lt.jp
ATR-Trek o.,Ltd. 
---
▼Companies Invested by "Keihanna ATR Fund"
Keihanna ATR Fund* established in 2015 has invested 15 start-up companies as of April 2021. ATR accelerates business development based on its R & D outcome by conducting joint R & D with, and/or providing technical licensing / support to these startups, thus contributes to the vitalization of Keihanna Science City.
*Kansai Science City ATR-Venture NVCC Investment Limited Partnership
*Kansai Science City ATR-Venture NVCC Investment Limited Partnership.
BLUE INNOVATION CO.,Ltd
Blue innovation delivers drone-based solution services based on Blue Earth Platform, an application of ATR's Ubiquitous Network Robot Platform(UNR-PF).* Ubiquitous Network Robot Platform


* Ubiquitous Network Robot Platform

https://www.blue-i.co.jp/en/
YUKAI Engineering Inc.
YUKAI Engineering offers communication robot solutions. It collaborates with ATR to improve the value of the robot by applying ATR's deep interaction technology.


https://www.ux-xu.com/en
XNef Inc.
We develop diagnostic and therapeutic equipment, software, etc. applying the decoded neurofeedback (DecNef).


https://www.xnef.jp/
SmartScan,inc.
TVISION INSIGHTS Inc.
ANYCOLOR.inc.
 (former Ichikara Inc.)
ANYCOLOR runs Vtuber managemant business.It collaborates with ATR in the development of next generation Vtuber based on multiple modalities.

https://www.anycolor.co.jp/en/
---
▼Global Innovation Ecosystem
We are building a global innovation ecosystem in Keihanna Science City.
Startup Support
In collaboration with world's leading innovation partners, we are providing an acceleration program "KGAP+" to support Japanese and overseas startups in marketing their products or services together with Japanese enterprises. The "Osaka, Kyoto, Hyogo-Kobe Consortium" has been selected by the Japanese government as "Startup Ecosystem Global Hub City" and Keihanna is acting as a hub for developing startups in the Kansai region.


Open Innovation Promotion Support

We are building and operating "KOSAINN", a platform to create issue-driven and business development projects for Japanese local communities and enterprises through open innovation. We organize teams with startups and researchers from Japan and abroad, making the project pioneering and agile. "KOSAINN+" is also being carried out with supports of the governmental agencies in Canada and so on.
KGAP+: Keihanna Global Acceleration Program Plus、KOSAINN:Keihanna Open Global Service Platform for Accelerated Co-Innovation
---
▼Licenses
Our research outcomes over the years have enabled us to license patents and other intellectual properties to collaborations, who in some cases have gone on to develop their own products from these outcomes.In this wey, we help partners to achieve value creation.
Karydo TherapeutiX, Inc.
We develop/provide therapeutic/diagnostic/medical R&D solutions based on the Thomas N. Sato BioMEC-X Labs' data science technology.


http://karydo-tx.com/
Telenoid Healthcare Company
We provide new communication services for elderly people, based on the tele-operated robot Telenoid™ developed by Hiroshi Ishiguro Labs.


https://telenoid.co.jp/
Stroly Inc.
As a start-up company developed from ATR, Stroly Inc. plans, develops, and operates the online map platform Stroly.


https://weare.stroly.com/
AI, Inc.
AI, Inc. develops/markets the high-quality speech synthesis solution AITalkreg;, using ATR's corpus-based speech synthesis.

https://www.ai-j.jp/english