▼Business Development
We have also been accumulating a number of intellectual properties and much know-how through our research activities. One of our major missions is to offer this wealth of "soft assets" for society's use in a broad range of applications, thus making a significant contribution to society.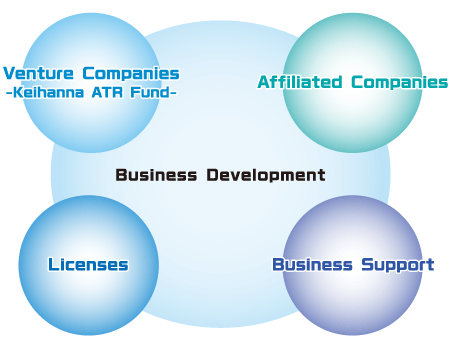 Please click each title. You can confirm the details of each company.
---
▼ATR Affiliate Companies
Business affiliates were established to commercialize products and services based on ATR's research outcomes.They have served as the core agents of commercialization in the ATR Group and have achieved successful results since 2004.
ATR-Promotions Inc.
Our missions are to develop and to market products relating to speech and sensor technologies developed by ATR. We also promote to support neuroimaging researches with functional MRI(fMRI)and magnetoencephalography(MEG).


http://www.atr-p.com
ATR Learning Technology Corp
We create new learning environment in collaboration with foreign-language learning technology "ATR CALL" based on ATR's studies and know-how in education support of Uchida Yoko Co.,Ltd.


http://www.atr-lt.jp
ATR-Trek o.,Ltd.
We promote speech recognition, translation, and speech synthesis technologies by combining speech recognition technologies of ATR and embedded software of Fue Trek Co.,Ltd.


http://www.atr-trek.co.jp/index_en.html
---
▼Venture Companies -Keihanna ATR Fund
Keihanna ATR Fund* was established in 2015. We provide research outcomes and technical support to venture companies founded through the fund as well as implementing a program to accelerate commercialization, thus enhancing commercialization efforts and contributing to the vitalization of Keihanna Science City.
*Kansai Science City ATR-Venture NVCC Investment Limited Partnership.
BLUE INNOVATION CO.,Ltd
Blue innovation delivers drone-based services based on Blue Earth Platform, an application of ATR's Ubiquitous Network Robot Platform(UNR-PF).* Ubiquitous Network Robot Platform


* Ubiquitous Network Robot Platform

https://www.blue-i.co.jp/en/
YUKAI Engineering Inc.
YUKAI Engineering offers communication robot solutions based on voice recognition technologies originated from ATR


http://www.ux-xu.com/en
FIT CO.,Ltd.
Supreme System Co., Ltd.
Supreme System strengthens our service "Moptar," using a flow line analysis system originated in part from ATR's psition measurement software.


https://www.supreme-system.com/
Aidea Inc.
Aidea collaborates with ATR in the development of a conventional ship-tracking system as an appication of ATR's UNR-PF technology.


https://aidea.biz/
A. I. Viewlife co. ltd.
A. I. Viewlife aims to tealize communication type nursing robot and then health solution with the help of ATR's life support robot technology.


http://aiview.life/
WaveArrays Inc.
WaveArrays Inc. considers application of ATR technology towards advanced 3-dimensional phased array antenna for satellite earth station business.
BackTech Inc.
In collaboration with ATR, BackTech improves its "Pocket Therapist®" service which providers therapy through smartphone to relieve low back pain.


https://www.backtech.co.jp/
Logbar Inc.
Logbar offers a wearable automachic interpreter device, "iIi" which uses automatic recognition/translation technology originated from ATR.

https://logbar.jp/en/
SmartScan,inc.
SmartScan develops a business model which dramatically reduces time and effort necessary for brain's medical image diagnosis based on MRI.

http://www.smartscan.co.jp/
ATR-Icubator Inc.
ATR-Incubator Inc. supports commercialization of ATR's R&D outcome, such as prototyping, proof of concept, and business model/plan creation.
---
▼Business Support
To support the growth of venture companies, we provide high-quality indirect-operation services, through ATR Research Partners Co.,Ltd. (100%owned subsidiary of ATR),as well as opportunities for interaction between researches and entrepreneurs.
---
▼Licenses
Our research outcomes over the years have enabled us to license patents and other intellectual properties to collaborations, who in some cases have gone on to develop their own products from these outcomes.In this wey, we help partners to achieve value creation.
XNef Inc.
| | |
| --- | --- |
| | We develop diagnostic and therapeutic equipment, software, etc. applying the decoded neurofeedback (DecNef). |
Karydo TherapeutiX, Inc.
We develop/provide therapeutic/diagnostic/medical R&D solutions based on the Thomas N. Sato BioMEC-X Labs' data science technology.


http://karydo-tx.com/
Telenoid Healthcare Company
We provide new communication services for elderly people, based on the tele-operated robot Telenoid™ developed by Hiroshi Ishiguro Labs.


http://telenoid.co.jp/
Stroly Inc.
As a start-up company developed from ATR, Stroly Inc. plans, develops, and operates the online map platform Stroly.


https://weare.stroly.com/
AI, Inc.
AI, Inc. develops/markets the high-quality speech synthesis solution AITalk ??, using ATR's corpus-based speech synthesis.

http://www.ai-j.jp/english
FEAT Limited
FEAT provides language processing and translation technologies to assist cross-language communication.


http://www.feat-ltd.jp