Greeting
2019
Advanced Telecommunications Research Institute International (ATR)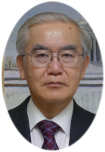 Tohru Asami, President

ATR was founded as a corporation in 1986 by the establishment meeting, consisting of the Ministry of Posts and Telecommunications, NTT, Keidanren (Japan Business Federation), Kansai Economic Federation, universities, etc. At that time, ATR launched three goals such as (1)"To promote pioneering and ingenious researches in information and communication related fields by international collaborations between industries, academia and governments," (2)"To widely contribute to the happiness of society and human beings as well as the development of highly specialized human resources," and (3)"To play a core role to promote Kansai Science City as a global research and development center." A difference from the recent similar projects citing globalization resides in this our love for this district. ATR has been promoting pioneering and advanced research and development in these fields. Recent researches such as brain information science, life-support robots, life science and wireless communication are focusing on applications for healthcare and social support, aiming to realize a national goal, a healthy longevity society.
Last year, the Osaka-Kansai World Expo was decided to be held in 2025. It is probably the time to judge our love for our home district, that is, playing a core role in the development of Kansai Science city. If we can positively conduct research exchanges and collaborative researches with universities and research institutes and companies, located inside or outside of Japan, and present new visions, Kansai Science city or Keihanna can be a center of excellence in the world beyond Japan. We are more actively pursuing the commercialization of our R&D outcomes toward social innovations than ever.
I warmly appreciate your continued support.
Tohru Asami, President