Press Release

May 26, 2022
Advanced Telecommunications Research Institute International (ATR)
ATR in Keihanna Science City Signs Memorandum of Understanding with State of Bavaria in Germany
~ Strengthening Partnerships in Support of Startup Companies ~
Advanced Telecommunications Research Institute International (ATR) (Seika-cho, Soraku-gun, Kyoto; President: Toru Asami; hereinafter "ATR") has signed a Memorandum of Understanding (MOU) with Invest in Bavaria (hereinafter "Invest in Bavaria"), Business Promotion Agency of State of Bavaria in Germany.
Since 2016 October when Keihanna Research Complex project began, ATR, located in Keihanna Science City, has developed a collaboration network with innovation promotion institutions and individuals around the world, particularly in Barcelona, Spain, Israel, Canada, New York City, USA, and India. By effectively utilizing such network, ATR conducts a global startup acceleration program called "KGAP+" and open innovation business creation programs called "KOSAINN" and "KOSAINN+" which large Japanese enterprises and startup from Japan and abroad work jointly. These activities, as a result, have been contributing to establish a global innovation ecosystem at Keihanna Science City.
ATR started a partnership with State of Bavaria through their Japan Office in 2021; ATR has accepted Bavarian startups to KGAP +, and Bavaria has also accepted startups participating in KGAP+ to their program that supports startups in their entry into Bavaria. In order to strengthen the partnership, a memorandum of understanding for cooperation was signed in Munich on May 16th, in the presence of Mr. Maekawa, Consul General of Japan in Munich, Dr. Kunito, Japan Club Munich e.V., President, and Dr. Geltinger, Chief Representative, State of Bavaria - Japan Office.
Based on this MOU, ATR and Invest in Bavaria will strengthen their collaborative activities by leveraging the strengths of their respective innovation ecosystems, such as open innovation between Bavarian startups driving Industry 4.0 and Japanese enterprises, and KGAP+ participants' Japanese and international startups' expansion into Bavaria and Europe. We will also enhance the value of each of global innovation hubs.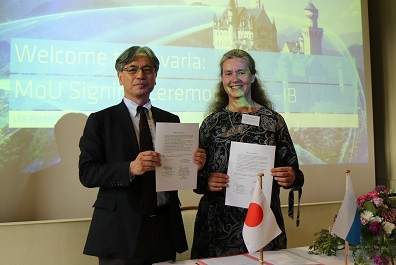 (Left: Dr. Hiroyuki Suzuki, Executive Vice President, ATR;
Right: Ms. Gudrun Weidmann, Executive Director, Invest in Bavaria)
■ About Invest in Bavaria
Invest in Bavaria is the business promotion agency of the Bavarian Ministry of Economic Affairs. It provides free and confidential assistance for companies entering or expanding in Bavaria. It also acts as a continuous contact point even after you have established your business in Bavaria.
■ Comments by Ms. Gudrun Weidmann, Executive Director, Invest in Bavaria
Through this MOU, we expect synergies between the regions for mutual benefit. This gives us the opportunity of regularly getting excellent candidates for our OisEasy- program via KGAP+ in sectors that Bavaria has strengths, such as mobility, life sciences, and Industry 4.0. In addition, Bavarian companies will have the opportunity to open doors into the Japanese market and connect with Japanese industry, as two promising Bavarian companies have successfully proved through KGAP+. Partners like ATR are key to the strategic Japanese market entry of Bavarian companies.
■ Comments by Dr. Christian Geltinger, Chief Representative, State of Bavaria - Japan Office
This MOU takes the cooperation between ATR, Invest in Bavaria and the Japan Office to a new level. It will further facilitate access to the respective ecosystems for Bavarian, Japanese and international venture companies participating in KGAP+. It is also expected that the Bavarian side will find ideas to solve the various challenges they face on a daily basis at KOSAINN+, which will accelerate the pace of mutual innovation. We look forward to a new strategic cooperation between Kyoto (Kansai), Munich (Bavaria) and State of Bavaria - Japan Office.
■ Comments by Dr. Hiroyuki Suzuki, Executive Vice President, ATR
Bavaria has been a key partner of ATR in R&D for the past 25 years in R&D through researcher exchanges with the Technical University of Munich. In terms of activities to build innovation ecosystems, we are sure that this MOU will bring the partnership between Invest in Bavaria and ATR much closer and deeper by acting as gateways for global expansion of startups in their respective innovation ecosystems.
■ Advanced Telecommunications Research Institute International (ATR)
Location: 2-2-2 Hikaridai Seika-cho, Sorakugun, Kyoto, Japan (Keihanna Science City)
President: Tohru Asami
Overview: ATR pursues world-leading, brilliant research achievements in computational neuroscience, deep interaction science, wireless communications, and life science as well as business developments, in collaboration between industry, academia and government

URL:
https://www.atr.jp/index_e.html
■ Contact
・Advanced Telecommunications Research Institute International (ATR)
 Strategic Planning and Publicity Division
 TEL: 0774-95-1176   Email: pr

atr.jp